Product Review: Kel Tec Sub 2000 Rifle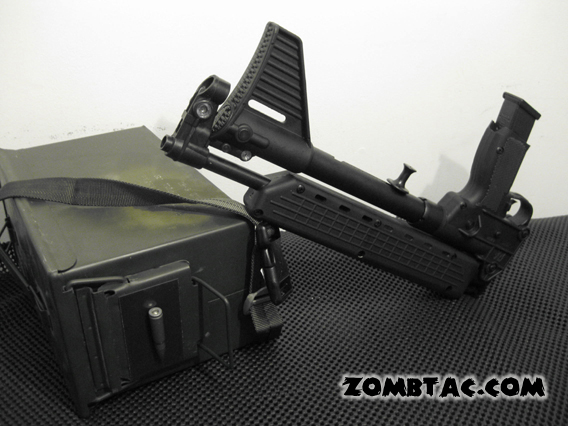 Kel Tec Industries Sub 2000 Sub Rifle. Chambered in .40 Smith & Wesson/ Glock 22 Magazine configuration
.
Kel-Tec offers a compact pistol-calibre carbine that is both effective and versatile at an afforadable price with the Sub 2000 Sub Rifle.

Offered in both 9mm and .40 S&W (reviewed here) the Sub 2000 rifle utilizes popular handgun magazines in its different version. One can purchase a Glock or Beretta grip model, and that model will use the same magazines that the handgun uses. The reviewed model pictured is configured in a Glock 22 handgrip and uses all magazines that a Glock 22 handgun can use.
The 9mm SUB-2000 can be configured in the following magazine types: GLK17, GLK19, S&W59, BERETTA92, SIG226.
The .40 SUB-2000 can be configured in the following magazine types: GLK22, GLK23, BERETTA96, S&W4006, SIG226.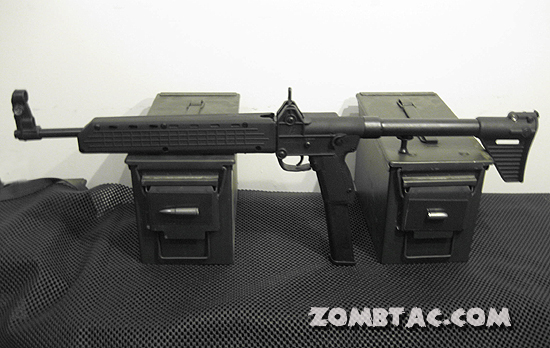 TECHNICAL SPECIFICATIONS - Kel Tec SUB-2000 / MSRP $409.00
Calibers: 9mm Luger 40 S&W
Weight unloaded: 4.0 lbs. 1.8kg
Length Open: 29.5" 749mm
Length Closed: 16" 406mm
Barrel length: 16.1" 408mm
Aperture rear, Circular hood, Adjustable front Practical range/ over : 150yds 150m
Rifle features an internal keyed deployment lock. Rifle can be reduced to a size of16" x 7" to facilitate secure storage: 406 x 178 mm


The bolt can be locked in the rear position by the operating handle. The main safety is of protected push bolt type disconnecting the trigger bar and interlocking the hammer and sear. By rotating the barrel upwards and back, the SUB-2000 can be reduced to a size of 16" x 7" to facilitate secure storage and utilize the internal deployment lock which is operated by a proprietary key. The rear sight is of aperture type and the fluorescent front sight can be adjusted for windage and elevation. The SUB-2000 can easily be disassembled for cleaning or inspection without tools.

SUB-2000 USERS MANUAL (PDF)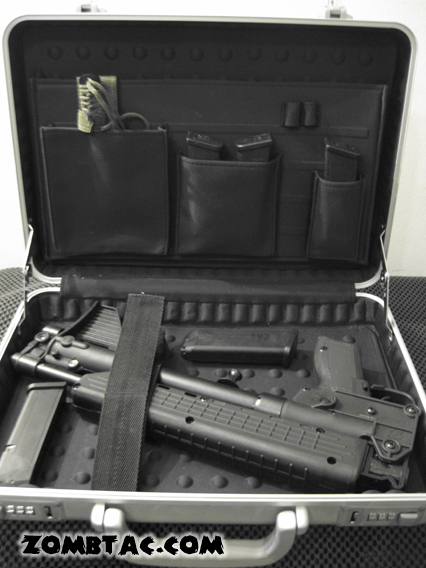 The carbine is made of space-age Zytel and only weighs 4 lbs. making it the lightest rifle out of the pistol calibre carbines currently available (the class would include Hi-Point Carbines, Berretta Storm, Masterpiece Arms carbines, etc.)

Another unque feature of the Sub2k is that it folds in half . It can be locked in the folded position with an integral lock on the front sight, and is 16 inches across collapsed, allowing it to be transported in a large pistol case or even thrown in a backpack or briefcase.

Pros:
-very light
-compact (folds in half)
-uses handgun magazines (cross platform with your existing handgun, different capacity options)

-affordable
Cons:

-Hard to get. Long waiting period. Kel-Tec's fullfilment to shops is notoriously slow. Online auciton may be your best bet for some of the more esoteric models. (9mm Glock versions seem to be more abundant than others).

Accessories

Tacticool Products has some nice accessories for the Sub-2000, including a buffer cylinder, a bolt tube cover, and operating handle cover.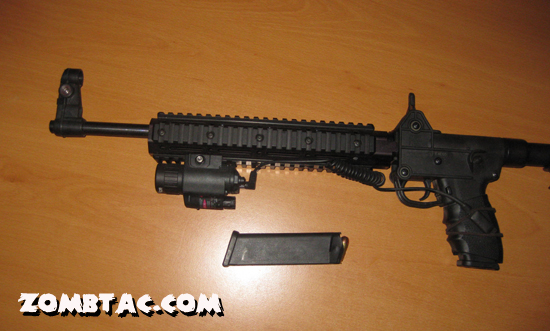 The aluminum quad-rail forend available directly from Kel Tec allows for the mounting of optics, lights, and grips.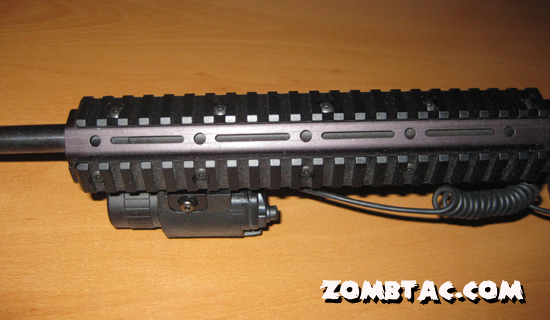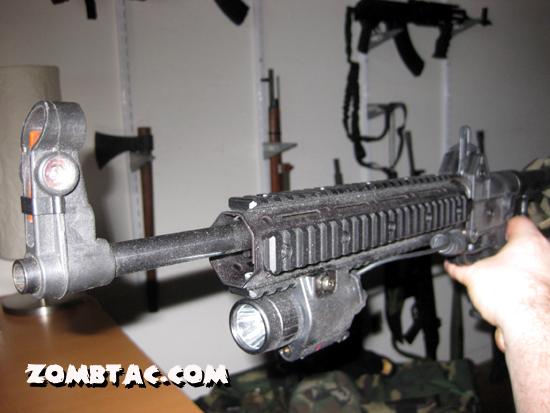 The adjustable front sight post is fitted on with adhesive. One can dremmel the collar to remove it, and some after-market options of barrel shrouds are available.
Range Report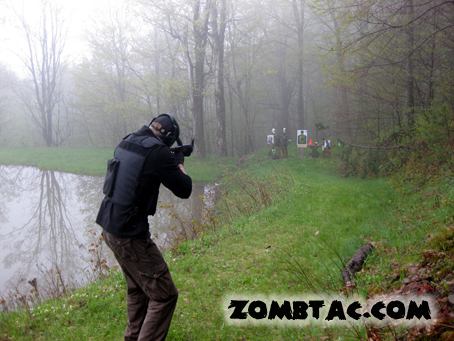 Testing the Sub 2000 at the Zombtac compound.

We tested the Kel Tec with both BVAC 180 grain hollow point (once fired brass) ammo as well as Winchester bulk-pack FMJ target rounds. Putting it throug a couple hundred rounds the Sub 2K had zero failur to fires, and zero failure to ejects. Our old Glock 22 pre-ban (NY) magazines fed flawlessly.

After shooting 12 gauge shotguns the recoil on the Sub 2K felt like an air rifle. Despite only weighing 4 lbs the muzzle jump was minimal and the entire gun was very managable for follow up shots.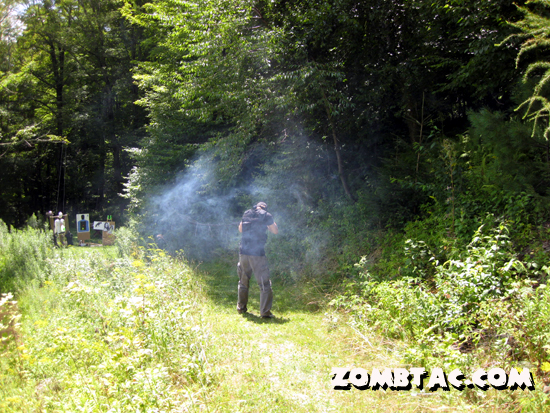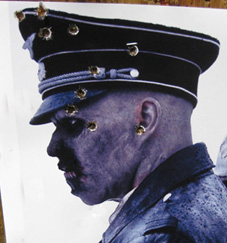 The sub rifle was quite accurate right out of the box, it's large front sight proving fairly adequete at 50 yard range. The groupings were decent and rapid fire magazine dumps went off without a hitch.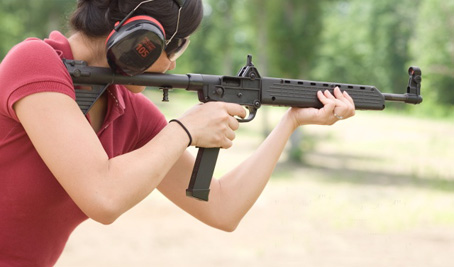 Sub 2000 with 31 round magazine.

- No other carbine on the market has the fold-in-half compactibility of the "Sub2K".