The Walking Dead Action Figures


The action figure; a right of American boyhood, now modernized by self-proclaimed adult geek collectors with disposable income. GiJoe, He-Man, Batman...Rick Grimes.

McFarlane Toys's The Walking Dead Action Figure Lines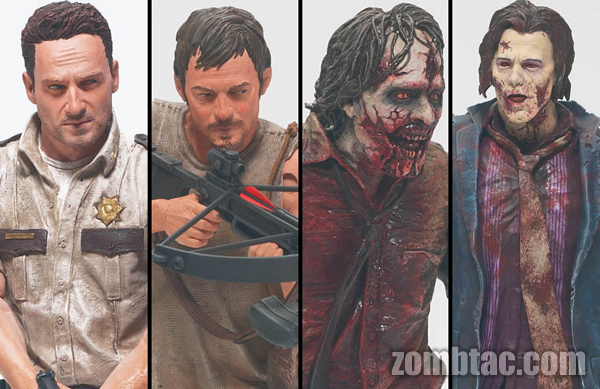 Comic Book creator Todd McFarlane's Toy company is known for highly-detailed collectable action figures and brings us two initial lines of The Walking Dead alum, immortalized in plastic.
McFarlane Toys has released two waves of The Walking Dead Action Figure line. The first is based on The Walking Dead TV Show, the second on The Walking Dead Comic Book. Both have an initial offering of 4 different figures (plus an exclusive Toys "R" Us edition Rick Grimes, and a boxed Zombie two-pack).


Paint: original paint
Scale: 4 to 4 1/2 inch
Format: action figure
Packaging: blister card
THE WALKING DEAD TV SERIES 1 FIGURES
Release Date: December 2011 (in stores now!)


Deputy Rick Grimes - larger picture, Daryl Dixon- larger picture , Zombie Walker - larger picture, Zombie Biter - larger picture (also Toys "R" Us Exclusive "Black and White" Rick Grimes - larger picture )


From McFarlane Toys: Sharpen up your survival skills, McFarlane Toys is introducing a new line of figures inspired by the highly acclaimed AMC television show, The Walking Dead. The TV series, adapted from the The Walking Dead comic book series, follows a group of survivors, led by Deputy Rick Grimes, as they travel in search of a safe and secure home after a zombie apocalypse.
These figures are available at Toys "R" Us, Barnes & Noble, Hastings Entertainment, Albertsons, and comic book stores.


Deputy Rick Grimes comes with his trusty Colt Python, as well as a Glock, Shotgun, Grenade, Baseball Bat, and radio.
(click for larger picture)
THE WALKING DEAD COMIC BOOK SERIES 1 FIGURES
(in stores now!)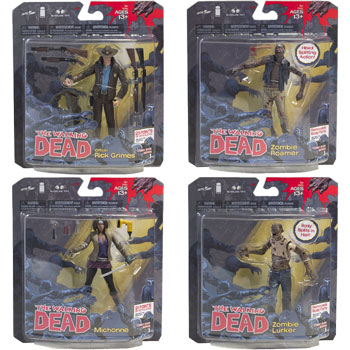 Rick Grimes - larger picture , Michonne - larger picture , Zombie Roamer - larger picture, Zombie Lurker - larger picture (also PX Previews exclusive Zombie Lurker and Roamer boxed 2-Pack - larger picture)


(more pics below)
Plans (October 2012) for Series 2 of the Action Figures were revealed at Toy Fair this year: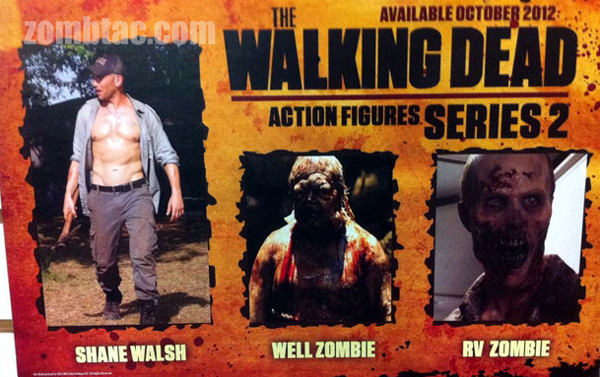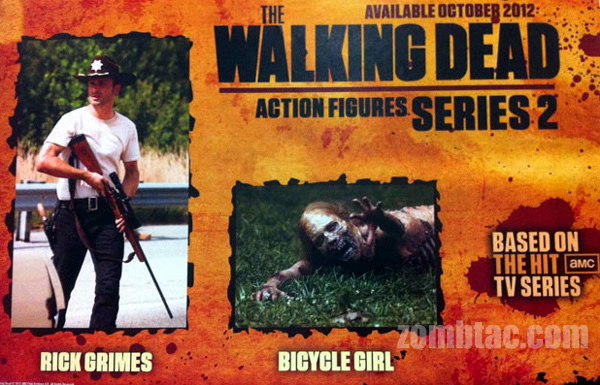 The Walking Dead Comic Series, Back Card Packaging
(Click for larger Image):


Disclaimer:
Any information contained herein is strictly for entertainment purposes. Zombtac.com does not endorse or recommend any actions by untrained individuals and assumes no liability from misuse of this information. Always consult Federal, state, and local laws, regarding firearms and target shooting.